Christmas is known as a time of indulgence, and that extends from the delicious food on the table to the festive tipples many of us enjoy. There's nothing wrong with treating yourself at Christmas, of course, but it's always a good idea to make sure you know what's in those festive treats before you dive in.
Whether you're tucking into a delicious mince pie with lashings of cream or your go to Christmas indulgence is a warm and aromatic glass of mulled wine, moderation is key. But all too often that sense of moderation that we have all year round goes out the window from day one of the festive period. In fact, in our experience, it's often not seen again until after New Year's Day, when it returns with a vengeance!
We decided to find out more about how we indulge over the Christmas period. The team analysed how much alcohol UK adults consume during the festive season, and how much they exercise between Christmas parties.
Our research reveals the real impact that traditional festive indulgences can have on our fitness goals. Read on and we'll reveal all the details.
What does the festive season do to our alcohol consumption and exercise routines?
A huge proportion of UK adults opt for an alcoholic beverage over the Christmas period, with many consuming far more alcohol over the course of Christmas than they might on a typical weekend. Of course, it's a time of celebration, so this is quite understandable. But how many people really understand what this means for our health and fitness?
Our research of almost 2,000 Hussle members found that just under a quarter (23%) consume more alcohol during the festive season. And many see their fitness regimes take a back seat for the holiday period too. In fact, we found that almost a third (32%) said that their exercise routine would be impacted during the festive period.
There are many reasons for this lapse in exercising over Christmas, of course. Almost every gym and leisure centre closes for some of the Christmas break, with many closing for several days to give staff a well-earned rest. This can have a real impact on fitness routines, particularly for those who only ever exercise in a class setting.
Christmas is a time for family, and a huge proportion of UK adults head off to spend the holidays with family all over the UK. This might mean that a person's usual gym or exercise class isn't as easily accessible, and fitness plans could well be forgotten about for the duration of the holidays as a result. But of course there are ways around these challenges for those determined to stay on course.
Do calories count at Christmas?
Christmas is no time for calorie counting, but we always advise people not to completely shelve their calorie goals for the whole Christmas holidays.
One area in which calories are overlooked all too often is alcohol. Far too many of us choose not to think about how many calories are in our favourite festive wines, cocktails and beers. But this is a mistake that is all too easy to regret a few days down the line, as the Hussle team highlights.
Hussle's researchers found that 31% of respondents thought they would only have to run between one and two miles, at around a 6 mph pace, in order to 'burn' the calories consumed in an entire bottle of wine. Of course this is far from the truth.
It would in fact take a run of between five and six miles at this pace to burn the number of calories in a typical bottle of wine. Just 19% of respondents were correct in guessing how many miles would need to be run to burn off that bottle.
The amount of exercise required to cancel out the calories in a bottle of wine remains the same, whether we choose to think about it or not. And that's why we analysed figures on the typical number of calories in a bottle of wine, to ensure that people are well aware of what they're consuming throughout the celebrations.
Hussle's researchers revealed that the calories in alcoholic drinks vary quite considerably, so those looking to stay on track with their fitness goals should choose wisely.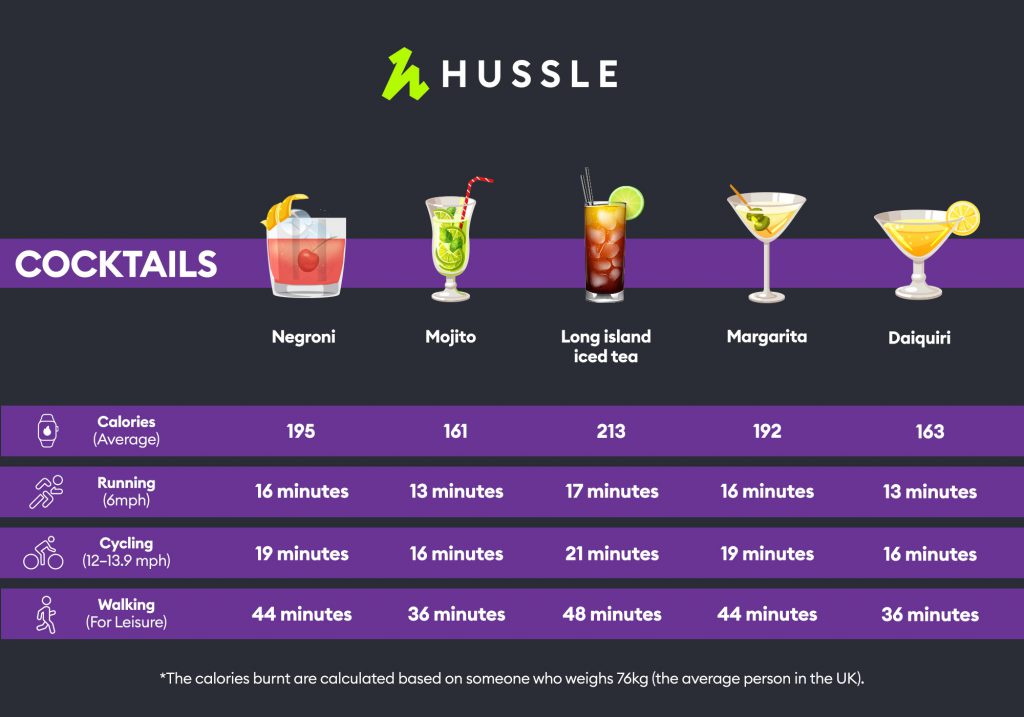 The most calorie-dense drinks consumed over the Christmas period include mulled wine, which contains 210 calories per 175ml, and cocktails like the Negroni or the Long Island Iced Tea, these have 195 and 213 calories respectively. Beers are also high in calories. A pint of lager has amongst the most, at 182 calories.
There's no need to deny yourself a treat over Christmas, however. It's just a case of knowing how to burn off any extra calories you choose to indulge in. If you're a runner, you can burn off a glass of mulled wine in 17 minutes. Those who prefer walking should set aside 34 minutes to burn off a small glass of red wine, or 21 minutes for a 125ml glass of prosecco.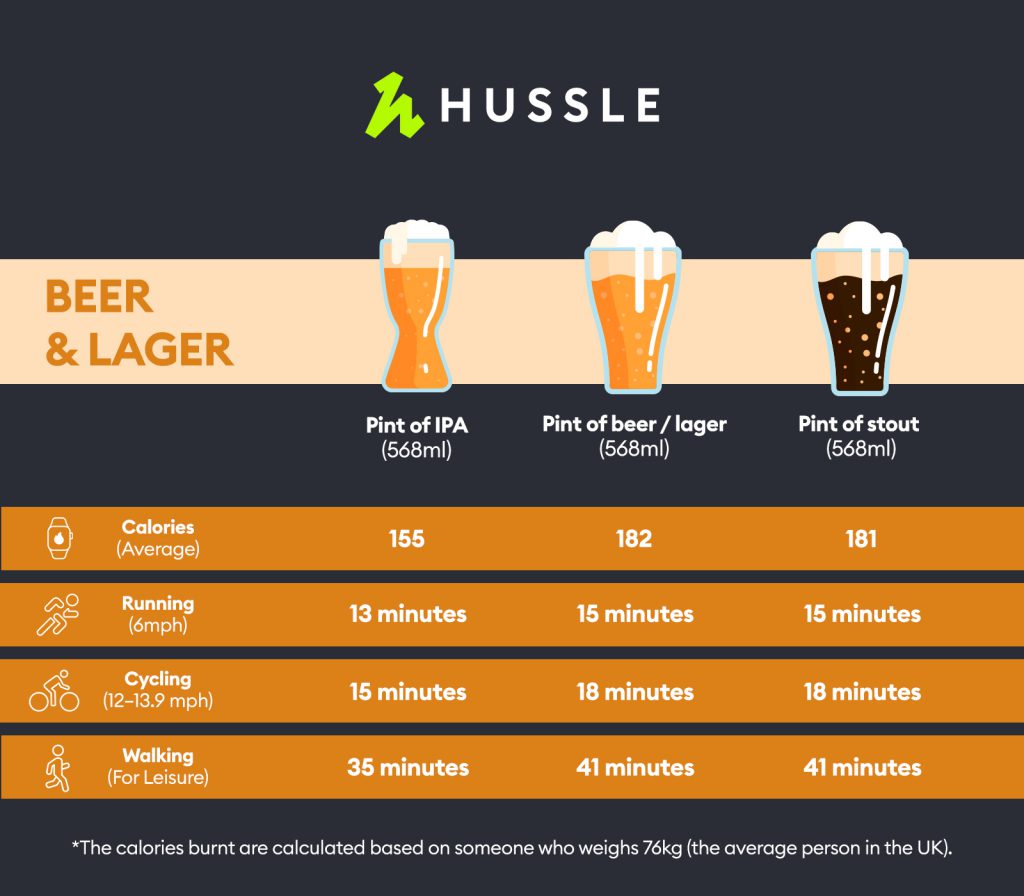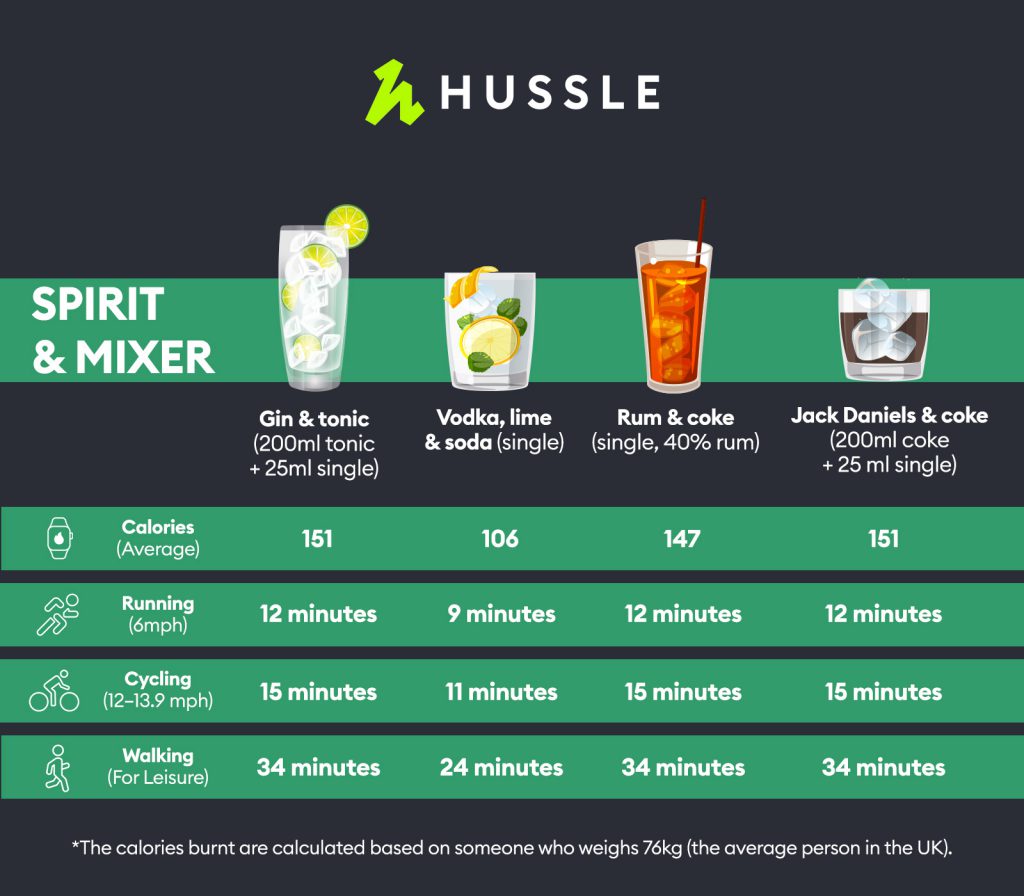 Beer drinkers can burn off those festive calories with 18 minutes of cycling per pint of beer or lager, or 15 minutes for a pint of IPA. And each pint can also be burnt off with a brisk wintry walk, as long as it's at least 41 minutes long.
—
Nothing gets us excited quite like Christmas, and of course it wouldn't be the same without a calorie-laden treat or two. We'd never suggest denying yourself a festive indulgence, but it's always worth keeping an eye on the calorie count of your chosen treats to avoid derailing fitness plans over the festive period.
If you want to keep on track with your fitness goals throughout the winter, we're here to help. With Hussle, you can access a huge network of gyms, pools, spas and health and fitness apps, using a single pass. Hussle provides endless opportunities to make fitness fun – throughout Christmas and beyond. Find out more at hussle.com.
Methodology: Consumer research was conducted between 1st – 10th November 2022 of 1,673 UK-based Hussle members.