Maintain your healthy habits over Christmas – without becoming Scrooge!
Ah, December. The month where every weekend is a party and every breaktime involves a mince pie. For fitness folk like us, this month can be a bit of a moral dilemma. We're keen to have fun (who doesn't love Christmas?) but don't want to completely let go of our fitness lifestyle.
Good news! It's perfectly possible to balance festive fun with healthy living (and, no, you don't have to become the Grinch). Here are some simple ways to stay fit and healthy over Christmas and New Year
Set realistic goals for December
Step one is the most important. Set yourself up to win by revisiting your training and diet goals for the month. Be realistic: can you honestly train 5 times a week throughout December? Will you really be able to track all your food? Remove the pressure of unrealistic expectations.
Find a balance that challenges you without piling on the pressure. Nobody's saying you need to give up completely, but it's equally unhelpful to set goals you won't be able to reach.
What sounds doable to you? Perhaps 3-4 training sessions, a daily walk, food tracking at home, and portion control when you're not? Set fitness goals that are realistic for you, not for anyone else. You can step things up in January.
Adapt your training schedule
There aren't many people who will be able to train right through December without any interruption to their usual schedule. Parties, family visits, and trips away all put a spanner in the works. Your gym might close over Christmas. Outdoor training could be affected by weather.
What we're trying to say is, you need to adapt your training plans this month. Busy after work? Why don't you train in the morning. Pushed for time? Try a HIIT session or use supersets to slash your training time. Gym closed for Christmas? Do a home workout or get outside for a run.
And make the most of whatever gym time you do have. Switch your workouts from body part splits to full body to hit all the major muscle groups. Build your full body sessions around lower body, upper body push, and upper body pull.
Here's a sample full body workout idea to try
3 sets 10-12 squats (back squats, front squats, or goblet squats)
3 sets 8-10 Bulgarian split squats or lunges
4 sets of 5 dumbbell thrusters
3 sets 10-12 bent over rows (barbell or dumbbells)
4 sets 8-10 lat pull down
3 sets 10-12 incline dumbbell bench press
3 sets 8-12 seated or standing shoulder press (barbell or dumbbells)
Finisher: 3 x circuit of
8 burpees
10 kettlebell swings
10 press ups
5-8 pull ups

30 second plank hold
Start the day right
A healthy day starts with your morning habits, so make an extra effort to tick those boxes in December. You know the kind of thing we mean: water, movement, a healthy breakfast.
Try to get outside within an hour of waking up to set your biological clock and energise you for the day ahead (1) Drink a glass of water or have a herbal tea to hydrate before your first coffee. If you have time for a workout in the morning, do it.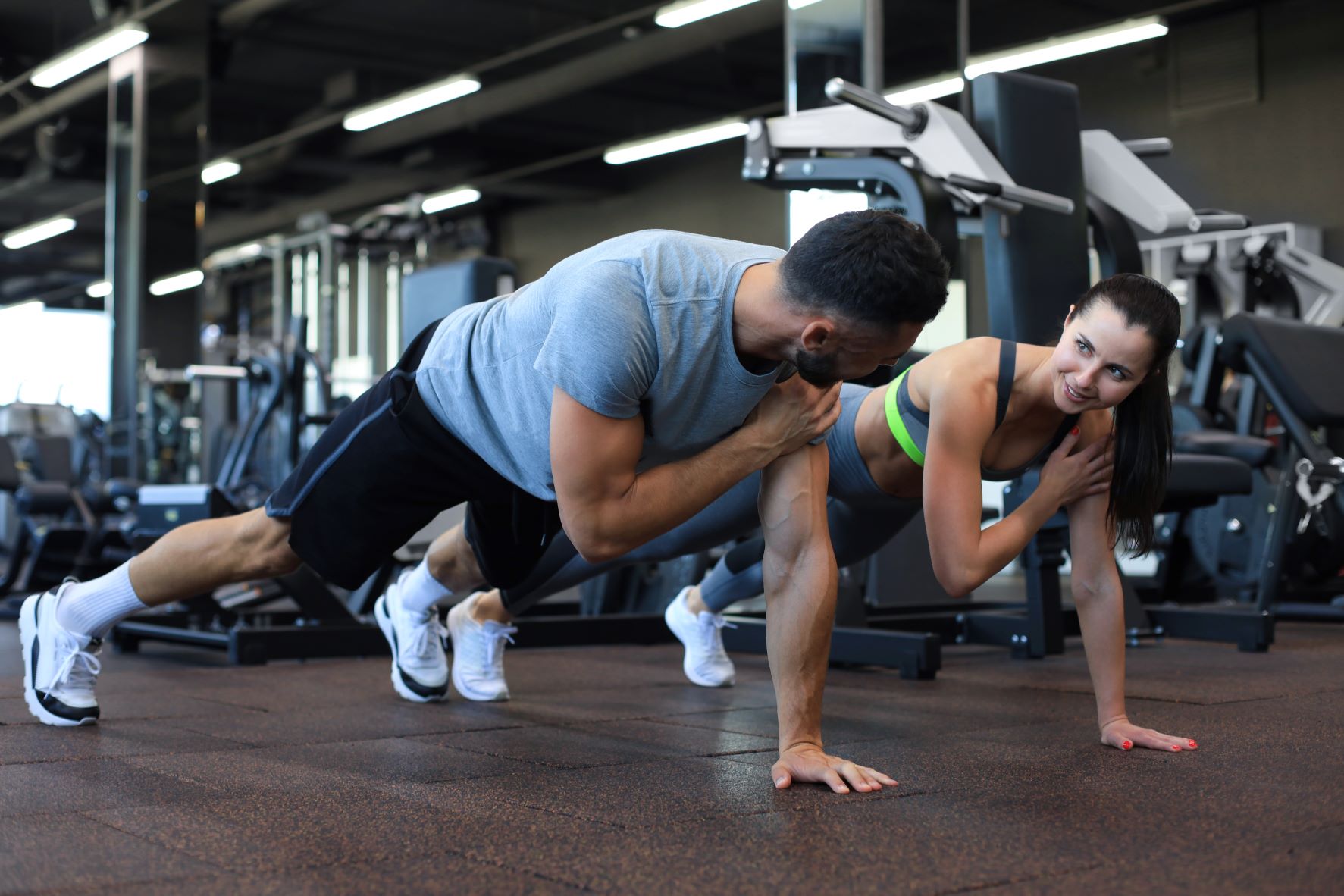 Make breakfast count
During the festive period, breakfast is the only meal you can rely on. Lunchtime might involve a 3-course sit down meal (with a paper hat) and dinner could end up being at 10pm. Set yourself up with a healthy breakfast that packs in the nutrients.
The goal is a breakfast that contains protein, fruit or vegetables, and fibrous carbohydrates. Need ideas? Try protein porridge with berries, eggs on toast with a side of spinach and tomatoes, or real Greek yoghurt with chopped fruit and a sprinkle of seeds.
Drink more (water, that is)
Here's a super-simple rule for the festive period. Drink more water. Go on, take a few sips right now – we'll wait. At this time of year, your regular hydration habits can get crowded out by mulled wine, party drinks, and festive coffees. Make a conscious effort to drink more water to balance things out.
Start your day with a glass of water before you get dressed. Carry a water bottle with you. Have a large glass of water on your desk. And drink water or sugar-free squash with meals.
Staying hydrated at this time of year will offset the effects of central heating, will support your digestive system, and can even help you feel fuller so you eat fewer Quality Street… 
Meal prep to win the week
We all have at least one free evening a week at this time of year. When yours? Let's say it's Sunday. During December, spend an hour every Sunday evening doing basic food prep. It will make life much easier when you're tired and hungover, and ensure you can eat really well on nights in.
Batch cook lunches or dinners (chili, tray bake, roasted veg, curry and other one-pot dishes are great). Portion these out and store some in the fridge, the rest in the freezer.
Make a big bowl of salad so you have a source of healthy sides for WFH lunches. Chop raw vegetables for quick-grab snack attacks. Plan your main meals for the week ahead. It will save you time, cash, and calories.
Workout at home
It's not always easy to get to the gym or your favourite workout class during December. It's a busy month and things come up. That's fine, but don't it impact your workout habit.
Home workouts are a no-brainer at this time of year. Convenient and efficient, they're the ultimate time saver. And there are so many amazing, motivating online workouts to choose from!
If you can't make it to the gym, Hussle's Monthly+ pass gives you access to the full Les Mills On Demand app. Over 1000 amazing (and free) home workouts ranging from cardio, weights, HIIT and more. No gym? No worries!

Train with a workout buddy
Maybe time isn't your biggest fitness challenge in December. What if it's motivation? We totally understand. It's much more tempting to sit on the sofa and watch some Christmas telly after work.
Your solution is to make a pact with a workout buddy. Find someone who wants to train a few times a week and schedule regular days for gym visits, workout classes, or running sessions. Contact each other on a Sunday to set up the next week's workout sessions (then put them in your diary!)
You could also be each other's accountability partners for daily step counts, water drinking, or healthy eating. Strength in numbers!
Review your diary
Once a week, look at your diary to see exactly how busy you'll be over the coming week. How many meals, parties, or evenings out are there? How many days have you got free for a workout or an early night?
Plan for the nights out by making small promises (I'll have a starter or a dessert, I'll only drink alcohol on two of those nights). And make the most of nights in (do a workout, eat some vegetables with dinner, be in bed by 10pm).
Sleep is your super power
Finally, remember to make the most of sleep during this busy period. Getting enough sleep doesn't just make you feel good, it has a direct impact on fat loss and healthy eating.  
When you're tired, you are more likely to experience cravings, and less likely to work out. Tired people eat more calories and more carbohydrates. They walk less and workout with lower intensity. On the flip side, when you're well rested you have plenty of energy for effective workouts, and you're more likely to make smart food decisions.
Try to go to bed before 10:30pm and always aim for 7-9 hours sleep. And, no, scrolling social media in bed doesn't count!
3 festive fitness mistakes to avoid
Writing off the entire month
Yes, the festive period is a challenge for healthy eating and working out. But that's no reason to give up and "start again in January". Use our tips in this article to identify pockets of time for workouts, meal prep, healthy eating, and early nights. Something is always better than nothing.
Thinking you have to eat everything
Mince pies, stuffing balls, pigs in blankets, canapes, chocolate coins… it's a food-heavy month. But you don't have to eat everything. If you don't actually like sausage rolls, say no thanks. Enjoy your favourites, and leave the rest.
Not having a plan
December isn't the month for winging it. Diarise your workouts, and plan sessions that will give most bang for your buck in the time you've got available.
Hussle Monthly+ is perfect for December – it gives you unlimited gym access plus Less Mills On Demand and Yogaia.