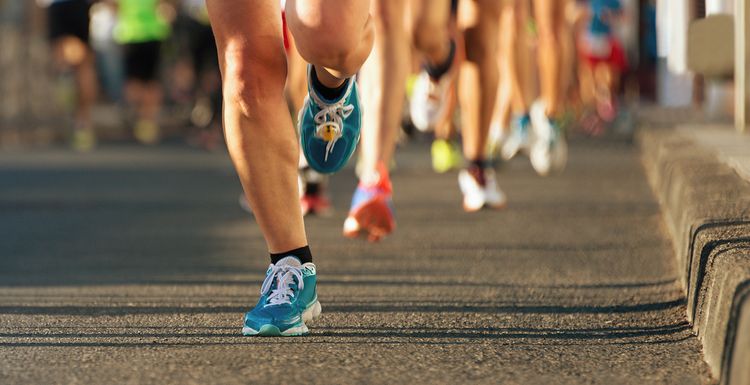 Perhaps you've completed your couch to 10K, run your first half, or you're just going headlong into running your first marathon. There's some stuff you should know before you embark on this 26.2 miles of mental and physical exertion.
Firstly, make sure you're match fit. Seems pretty obvious but the strain you will be putting on your body is immense. In simple terms, your heart will be put under extra pressure, your muscles will be worked within an inch of their life and you'll experience extreme fatigue. So please, before you do a marathon, train first. Here's how.
Give yourself time. If you're a non-runner, a year is a realistic time to build up. Starting slow is key and give your body plenty of time to become conditioned to the greater demand of marathon training.
Log your mileage. As soon as you've done it you'll forget so document your training. Use this and aim to increase your mileage by around 10% a week. There is plenty of tech out there to record your runs, from free phone apps to all singing and dancing sports watches.
Take a "cut back" week. Your body will need a minimum of six weeks to make adaptations to the stresses it comes under. A week of increased workload, like mileage increases or speed work should then be followed by a "cut back" week where the mileage is reduced and your body can adapt.
Follow a structured marathon plan: the internet and running magazines are a great resource for training programmes and they are designed by people who generally know what they're talking about.
Run for 3 or 4 days each week, made up of a long run, two shorter runs focusing on speed and strength, and an easy recovery run if you wish.
Alternate a hard day with an easy day or a rest day.
Always listen to your body. Injuries come easily and often and the best way to steer clear of them is by resting when you need to and only doing what is within your body's limits. Pushing too hard might see you out of the marathon altogether.
Swot up on nutrition. Energy drinks, eating well balanced meals, and keeping hydrated will all help your chances at getting through that marathon! Correct fuelling and refuelling, as well as managing the build of extra toxins in your body, are all key ingredients to smart nutrition.
Cross train to strengthen and condition your muscles – dedicate at least one session a week to an activity other than running: yoga, pilates, aerobics, resistance training all compliment running and your body will thank you for the break.
Think positive. A good attitude is sometimes what makes the difference between finishing, and not finishing.
Have fun!
Comments
Would you like to post a comment?