Swimming is the cardio workout that doesn't put stress on your body. It builds endurance and muscle strength yet is very low impact.
This mean it's easy on the joints but it will still give you a great all-round workout. If you're recovering from an injury or need to strengthen your posture, swimming has you covered.
Now the weather has turned warmer, why not head down to your local pool and take a dip.
Here are 5 of our favourite pools to whet your appetite:
1. Aquilla Health and Fitness, London.
Best for luxury, this gorgeous heated pool in South Kensington complete with a sauna and steam room is the perfect antidote to a long day.
2. Bannatyne Health Club Fairfield
Best for forgetting the outside world, this 5* club and its beautiful underground pool will transport you to another world.
3. LivingWell Manchester Deansgate
Best for skyline views, this pool and its massaging jacuzzi will ensure that holiday feeling all year round.
4. Pools on the Park, Richmond
Best for outdoor swimming, the pools here offer something for everyone. With two indoor pools and a large outdoor pool with extensive grounds, why not take a picnic and make a day of it.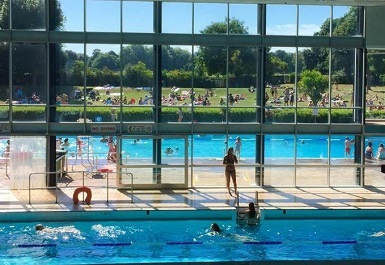 Image credit: DayOutWithTheKids.co.uk
5. Nuffield Health Edinburgh Fountain Park
Best for families, this centrally located club offers a kids' pool in addition to the main pool. There's a creche onsite too if you fancy a dip without the children so you can make the most of the sauna and jacuzzi in peace!