It's a challenge most of us will have never encountered. Staying inside is an instruction that's the opposite of what we're used to.
Our usual lives are a whirlwind of being here there and everywhere. We're used to the demand of being needed in different places on different days at different times with different people.
All of a sudden, the best thing we can possibly do, is stay at home.
So, how do we keep a sense of normality, structure and motivation when we're unable to leave the house? We've collated some top tips to help out.
Create a work space
If you're working from home, designate an area of your house that is your work space. It shouldn't be your bed, or the sofa, but a place where you're able to work comfortably and quietly throughout the working day.
A hard surface, a place for your notepad and pens, a comfortable chair. That's all you need. But take pride in that space and respect it.
Leave this space on your lunch break. Leave it when you're done with work. Come back to it at working times only. That way you'll help to keep the boundaries between work and rest by making that boundary physical.
Make time for exercise
If you would usually incorporate exercise into your daily routine, then keep doing it now. And do it for the right reasons. Forget the pressure of maintaining muscle and fitness and hitting PBs. Now is not the time for additional stress. Just focus on what feels good.
There are plenty of forms of movement you can be taking from the comfort of your own home. Check out our home workouts of the week for inspiration.
If your body is craving calm, explore virtual yoga sessions on YouTube.
Don't forget, you can still go for a walk or a run outside, but act responsibly. No more than once a day and try to go alone.
Respect mealtimes
When in a routine, your body is really good as developing its own clock for things like mealtimes and sleep. Keep respecting this.
Designate time for your meals, away from work and at the times you would usually eat. Avoid grazing more than usual. Dedicate your mealtimes for spending quality time with loved ones. Either the ones you currently live with, or on FaceTime.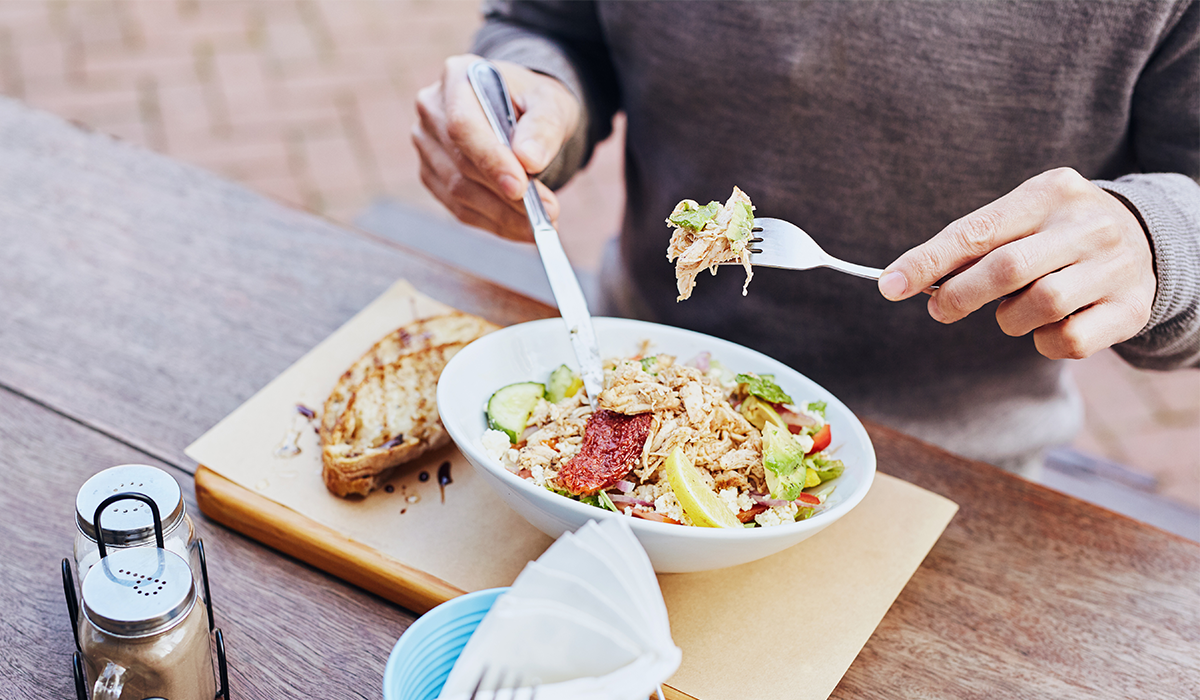 Practice gratitude
At the moment, it's pretty easy to think about things that you're disappointed or frustrated over. What can be difficult, but it much more powerful, is remembering the thing you are grateful for.
Practising gratitude is a tactic lots of people use in their daily life to manage anxiety and stress, and we should be doing it now more than ever.
The practice of acknowledging and noting things you feel grateful for is a great way to reframe your perspective and help yourself get into a positive mindset for the day ahead.
This can be as simple as the sunshine, or the brilliant cup of tea you had this morning.
Make time for fun
Now is the time to be inventive. There are lots of activities you can get involved with inside that you might never have tried before.
Each night, allocate time to do something that you're going to enjoy. Something away from work, away from the TV, and away from your phone.
Do a virtual pub quiz. Make candles. Learn a dance routine. Do karaoke. Take a bath. Bake biscuits. Have an indoor picnic. Do a fitness challenge. Practice yoga. Play board games. There's an endless list, it just requires some imagination.