For many of us, our exercise routines were flipped on their head when lockdown happened. No longer able to access the gym or any of the equipment in it, unable to workout in a group, use the pool, and remember when we weren't allowed outside for more than an hour. That was weird.
We had to adapt. That meant home HIIT sessions on the carpet or running more. At first it was kind of cool to be doing something so different, but soon the novelty of our new home bound lifestyles wore off and the thought of tuning into another live bodyweight workout just wasn't fun anymore.
After being gym-less for months, we're now almost able to get back into it. It's time to be reunited with the racks and the machines. All that equipment at our fingertips again.
Whilst that is exciting, and we can start looking to make progress in our strength, muscle mass, and other areas with the help of the gym, there are some things we may have learned from fitness in lockdown that shouldn't get left behind.
Here's 5 fitness lessons from lockdown:
There are multiple components of fitness
When trying to fit the gym into our hectic lives, it was easy to fall into a repetitive routine. One with not much variation or direction. Leg day. Arm day. Just lifting some weights. All under the guise of trying to get stronger. At home alternatives may have been helpful in reminding you that strength is just one component of overall fitness.
Lifting lighter weights for more reps is great for developing your muscular endurance. Something that helps you to maintain good posture, lets you go for longer throughout the day, and increases your overall energy levels.
Getting your heart rate up can feel fantastic. Developing your stamina and getting the blood pumping are important markers of physical fitness and cause an almost immediate surge of endorphins.
Working on your mobility and flexibility is the TLC your muscles and joints may have been missing before. Yoga classes, mobility exercises, and stretch session look after those often overlooked components of fitness.
So whilst strength training is of course key to progressing in your physical fitness, there are other things worth focusing on too. Save a session for those things when you get back into the gym.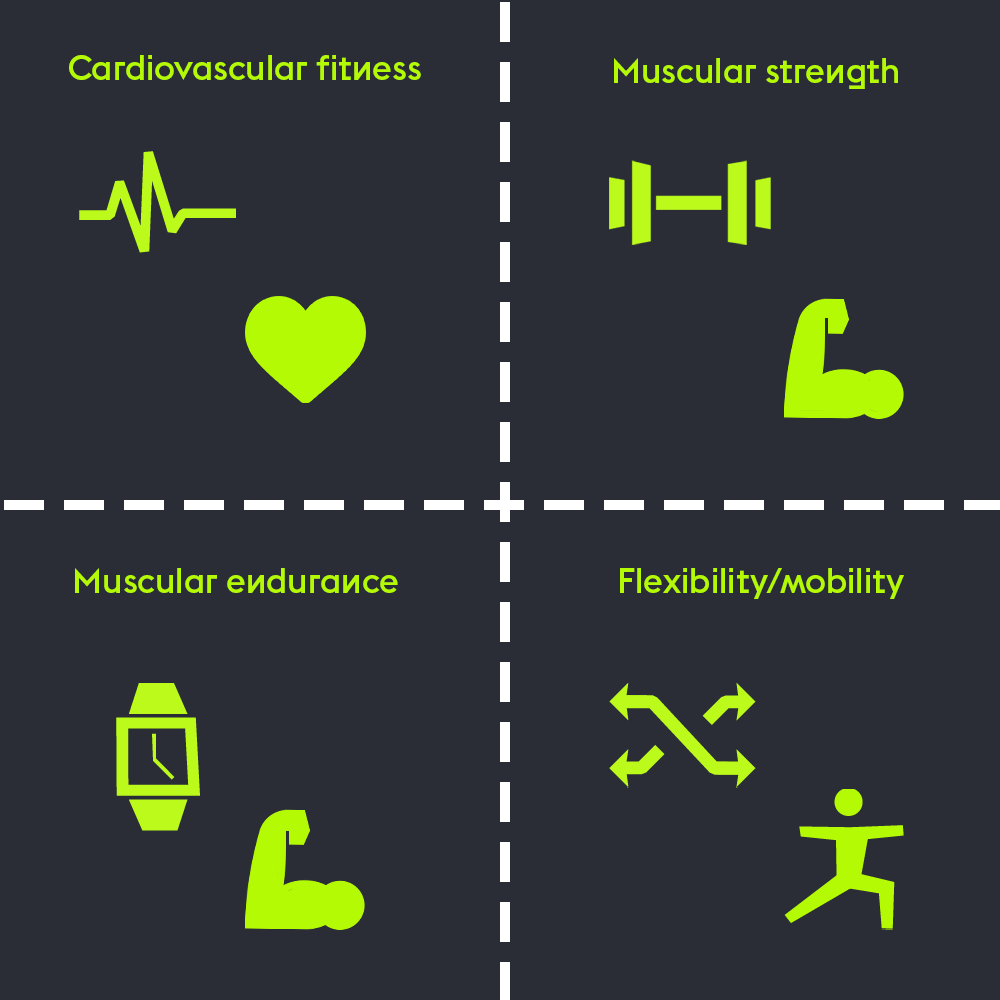 Going back to basics is beneficial
Without a whole load of weight to be lifting, your home workouts will have seen you go back to basics with your exercises.
This can be really beneficial. Before, you may have been so busy getting better, that technique and form often took a backseat. Increasing the reps and the weight before being ready.
Fitness in lockdown has been a great reminder that form always comes first. One bodyweight rep of a squat with the perfect posture is much better than ten without.
Form needs to be at the heart of all of our exercises. It's vital for making sure that the movement is actually engaging the muscle groups we want it to and helps us avoid unwanted injury or strain.
If you took the time to focus on form at home, make sure you remember that when you're back at the racks.
It's a huge help with mental health
When things were weird and it all felt a bit funny, exercise was a guaranteed way of feeling a little bit better. You might have always known that, or you might have only just found out now.
Exercise can help in so many different ways. To help form routine, to help create space in the mind, to help distract and occupy, to help relieve stress and pent up energy. Plus all the science behind it too. Endorphins are mentioned all the time in relation to exercise. That's because movement will release the all-important hormone that is proven to make you feel good. A natural high to help us all get by.
Remember that feeling and find your balance when getting back to the gym. It's not supposed to be a pressured or stressful experience. Make your fitness routine flexible and enjoy the mental health benefits that exercise brings, not just the physical ones.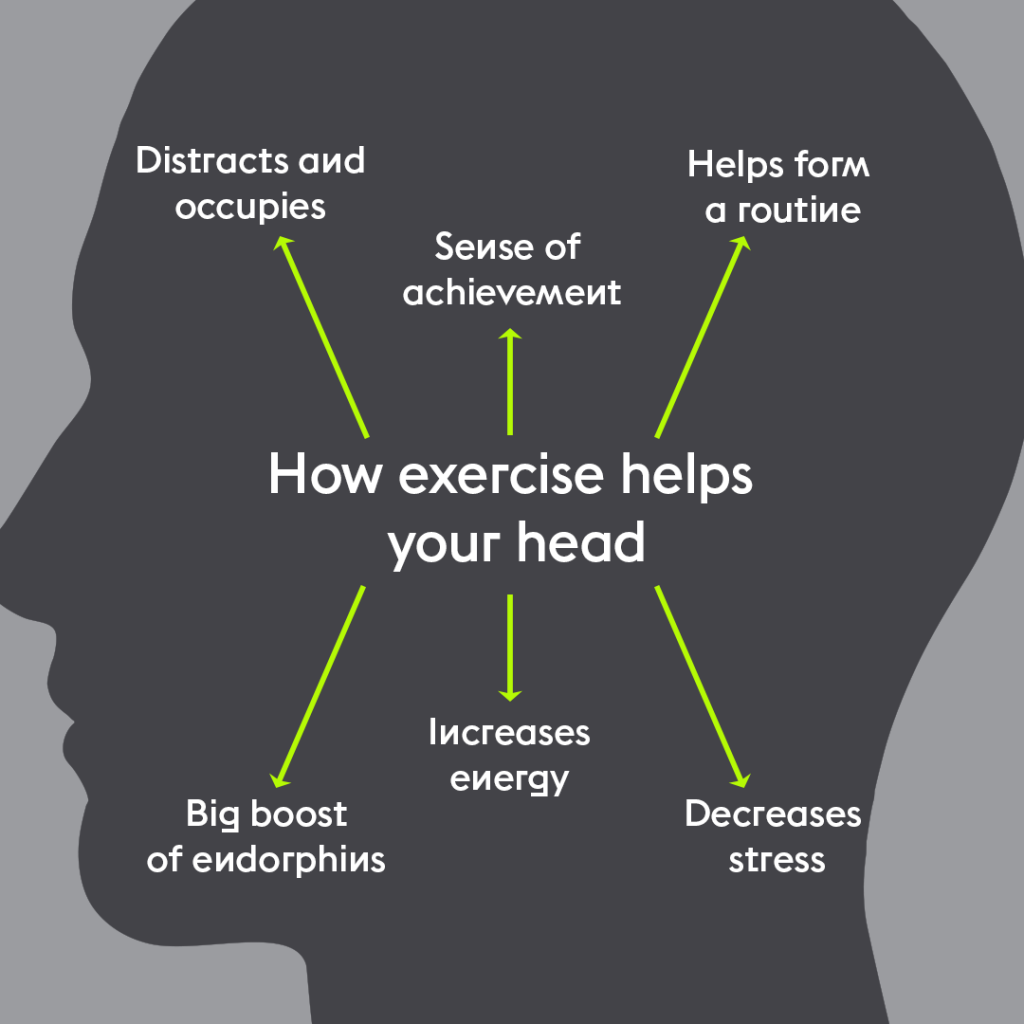 Cardio isn't that bad
Before, you might have always swerved the treadmill. Cardio meant running on that belt until your lungs fell out. And it was only ever about the calorie burn.
Your home HIIT sessions might have taught you that cardio is much more than just the treadmill. There are so many different ways to get your heart rate up and feel all the better for it. Getting back to the gym means making time for some cardio is even easier. The bike, the battle ropes, the rower. Lots of different ways to test your aerobic fitness.
Sometimes you're in the mood for a sweaty session. Other times you're not. You don't need to define yourself by being a runner or a lifter. You can be both. Experience the benefits of each. It's all about developing all round fitness.
Fitness has got to be flexible
If you didn't know it before, you do now. Life is very unpredictable. Anything can happen within an hour, a day, or a month.
Rigid fitness routines just don't work. You have to have the option to be flexible. To make it work around you, and not the other way around.
With Hussle, you've got so many options. A day pass for a gym. Or a Monthly+ for multiple gyms. Just take a look at the map to see what's near you and go when you feel like it. You can always stop, pause, or play your pass at any time. We'll say that again. Any gym. At any time.
It's all about Making Life Workout.